Time zone: Brisbane
Start Date
Course Type
Standard Price
Earlybird Price
06 May 2017

8 Days | Weekend
2:00 PM to 6:00 PM


Virtual Classroom
USD 1499
USD 1199

Last Date For Early Payment
16 Apr 2017

Enroll Now

May
 

Sat

06

Sun

07

Sat

13

Sun

14

Sat

20

Sun

21

Sat

27

Sun

28
---
---
Course Description
CCBA - Certification of Competency in Business Analysis is offered by the IIBA as an intermediate business analyst certification for a more junior business analyst who may not meet the more rigorous requirements associated with the CBAP.
CCBA is a stepping stone to the CBAP designation. The CCBA provides recognition for individuals who have business analysis experience and can demonstrate a clear proficiency in business analysis, but don't yet meet the requirements for the more rigorous CBAP designation.
Yhrough our instructor led online training, we provide complete support to the participant till certification with Quiz Bank, Application filling assistance, CBAP® Reference and Exam tips and tricks.
Live Instructor led class
Recording of the session for access later
BABoK based e-learning ( 10 hours duration)
Question Bank with 900+ IIBA model questions for all participants
Multi level questions - Concept, Warm up, Drill and simulation
6 chapter end quizzes (30*6= 180)
2 mock simulation tests (120*2= 240)
CBAP/CCBA Study guide hard copy (simplified abridged version of BABoK V3)
35 PDU Certificate
Application filing support
CBAP Ref
Exam preparation tips and tricks
100% success rate for CBAP/CCBA/ECBA certification past record
CBAP/CCBA/ECBA Preparation help and guidance by experienced CBAP certified faculty who are thought leaders in this domain
Excellent participant feedback
Focused sessions for Exam preparation
Allows a complete repeat sitting for the sessions later
More no of questions for Exam preparation
Below are list of some of audiences for this course.
Systems analysis
Business Analysts
Requirements analysis or management
Business Architect
Business Consultant
Data Analyst
Business Analysts-Beginer
Information Systems Analysts
IT Consultant
IT Project Managers with responsibility for business analysis
Vice president
Application Requirements for the Certification of Competency in Business Analysis (CCBA)
While the IIBA has made the requirements for this intermediate business analyst certification easier to obtain for the junior business analyst, still each of the following application requirements for the Certification must be met at the time of applying to be approved to sit for the exam.
Minimum 3750 hours of BA work in the last seven years, which is about 2 years of experience doing business analysis work. So this aligns well with the junior business analyst role.
Minimum 900 hours in 2 of the 6 knowledge areas or 500 hours in 4 of the 6 knowledge areas.
Minimum 21 hours of professional development
Minimum high school education or equivalent
Two references fro
a career manager
a client, or
a CBAP recipient
Signed Code of Conduct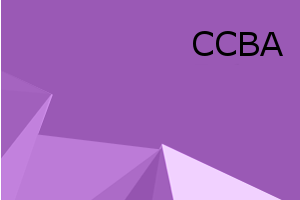 Demo available before registration
All faculties: CBAP Certified, Min. 18+ years of BA exp.
Unlimited access to session recordings
Unlimited email support and expert guidance on application filing
Compact & Organized Study Guide
Exam preparation tips and tricks